Hinewaka Sires
We aim to use the best Shorthorn genetics available in our breeding programme. Sires are sourced from around the world that will enhance our breeding objectives and ensure we are producing the type of cattle that the beef industry is wanting. We also source top genetics from within NZ and over the years have purchased many National Champions , and hold the record price paid for a NZ shorthorn bull of $27,000 for ' Austins Lad'.
Our Current Sires
ROYALLA REMBRANDT K413 (IMP AUS)
Royalla Rembrandt is a sire that has bred tremendous thickness but with an easy doing softness to his progeny. He has a fantastic temperament and is a breed trait leader for Gestation Length, 200Day weight, Scrotal circumference and Eye Muscle Area.


EBVs & Pedigree


OUTBACK SPRYS BALANCE G266
SPRYS ALL GOLD D052 (IMP AUS)
A top sire from the outstanding donor dam Nearra Judith 104th. Sire of top priced bull in 2012 Sale.


EBVs & Pedigree


HINEWAKA WAGMAN 21
Used widely in the herd. Positive fats for rib and rump with excellent IMF.


EBVs & Pedigree


SPRYS PATENT'S ACE G38 (IMP AUS) (ET)
An exciting new sire which is adding real thickness to our cattle. His calves are moderate framed with a lot of muscle.


EBVs & Pedigree


Sprys On Target H189
A new Australian sire. Strong, rugged bull with a good balance of EBVs


EBVs & Pedigree


PAINTEARTH RAMA 53U (IMP CAN)
A new sire from Canada with Exceptional thickness, muscling and Soundness. We have an exciting crop of yearlings by Rama.


EBVs & Pedigree


SASKVALLEY PRIMO 40P (IMP CAN)
Used widely in the herd , Primo has bred big barrelled, easy doing cattle. He has left outstanding females.


EBVs & Pedigree


BELMORE JACKAROO Z109 (IMP AUS)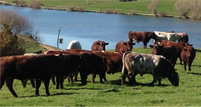 ANNUAL BULL SALE
On-Farm 3pm: June 8th 2022
OUR SIRES
View the Hinewaka Herd
WHERE ARE WE?
Click to View Map
456 Te Wharau Road
Masterton